How this site works: The best way to learn its structure and functions is simply to browse through it. For a graphical overview, check out the SiteMap.
Additional questions, concerns, or comments: If you have questions not answered in the FAQ, discovered a problem or bug, or just want to give us some feedback, please contact the Team Leader.
Browser requirements: To function well, this site requires modern browsers such as Mozilla, Firefox, Safari, Opera 6+, Navigator 6+, and Internet Explorer 6+.
Power Users: Check out the Keyboard Shortcuts. They save time and reduce stress on your mousing wrist.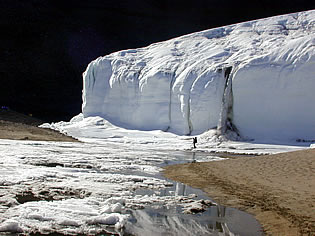 Lonely hiker? Waterfall flowing off the Canada Glacier, Dry Valleys, Antarctica. Photo: MCM LTER web site.